Das Deutsche Patent- und Markenamt hat die aktuelle Ausgabe des Newsletters für die Nutzer der Informationsdienste des DPMA veröffentlicht.
Ausgabe Januar 2012
+++ Schneller zum Patent: Pilotprojekt "Patent Prosecution Highway" zwischen deutschem und chinesischem Patentamt +++
+++ Achtung: Gebührenempfänger geändert! +++
+++ Elektronische Schutzrechtsanmeldung +++
—Tipp: PDF-Dateien als textbasiertes PDF erstellen! —
+++ Fragen an die Auskunftsstelle +++
—Wie trage ich in einem Antragsformular einen zweiten und weitere Anmelder ein? —
+++ Tipps und Tricks für die Recherche in den elektronischen Diensten +++
—DEPATISnet – Klassifikationsfeld ICP —
+++ Neu auf www.dpma.de +++
—Informationen zur Vertretung vor dem DPMA —
—Neue Erfinderaktivitäten! —
+++ Reform der Locarno-Klassifikation +++
+++ PIZnet Veranstaltungshinweise +++
+++ Termine +++
Quelle: DPMA
Anzeige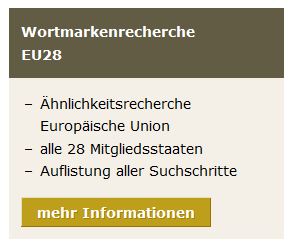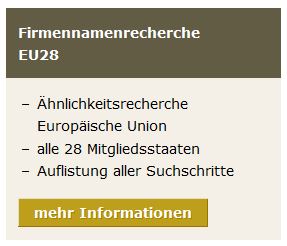 Did you enjoy this post? Why not leave a comment below and continue the conversation, or subscribe to my feed and get articles like this delivered automatically to your feed reader.