Die Ausgabe Juli des Newsletters für die Nutzer der Informationsdienste des DPMA ist erschienen.
Aus dem Inhalt:
+++ Ein neues Styling für das Deutsche Patent- und Markenamt +++
+++ Podiumsdiskussion über Umwelttechnologien im Deutschen Patent- und Markenamt +++
+++ Jahresbericht 2009 veröffentlicht +++
+++ Die Arbeitsgemeinschaft deutscher Patentinformationszentren e. V. auf der PATLIB-Konferenz 2010 +++
+++ Patentinformationszentren profitieren von EU-Projekt +++
+++ Fragen an die Auskunftsstelle +++
— Marken- und Geschmacksmusterrecherche —
+++ DEPATISnet – Neuheiten und Änderungen +++
Anzeige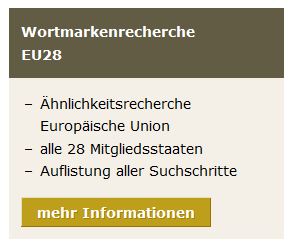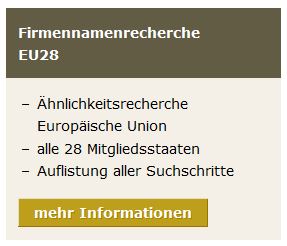 Did you enjoy this post? Why not leave a comment below and continue the conversation, or subscribe to my feed and get articles like this delivered automatically to your feed reader.