Anzeige


Bildmarkenrecherche Deutscher Schutzbereich
Maßgeschneiderte Recherchen für Kanzleien und Markenanmelder
Vor der Anmeldung einer Bildmarke oder einer Wort-/Bildmarke mit unterscheidungskräftiger Grafik ist eine Bildmarkenrecherchen nach identischen oder verwechslungsfähigen Darstellungen sinnvoll. Auch bei Benutzungsaufnahme eines Logos sollte nach älteren Rechten recherchiert werden.
Eine passende Bildmarkenrecherche für den Deutschen Schutzbereich, also über den Bestand der beim DPMA geführten nationalen Marken, der Europäischen Gemeinschaftsmarken und der Internationalen Registrierungen nach Madrider Markenabkommen (WIPO-Marken) bietet Researcher24 bereits ab 299.- EUR an.
Bildrecherche D+EU+IR ab 299.- EUR inkl. MwSt.
erweiterte Recherche nach identischen und ähnlichen Marken im deutschen Markenregister (DPMA) und den Datenbanken der Europäischen Gemeinschaftsmarken (HABM) und Internationalen Registrierungen (WIPO)
alle Treffer mit komplettem Registerauszug
Auflistung aller Suchschritte
inkl. drei Nizzaklassen

Anzeige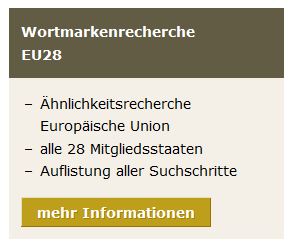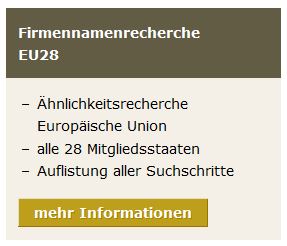 Did you enjoy this post? Why not leave a comment below and continue the conversation, or subscribe to my feed and get articles like this delivered automatically to your feed reader.