Anzeige


Markenähnlichkeitsrecherche Deutscher Schutzbereich
Maßgeschneiderte Recherchen für Kanzleien und Markenanmelder
Markenrecherche D+EU+IR Ähnlichkeit ab 249.- EUR inkl. MwSt.
erweiterte Recherche nach identischen und ähnlichen Marken im deutschen Markenregister (DPMA) und den Datenbanken der Europäischen Gemeinschaftsmarken (HABM) und Internationalen Registrierungen (WIPO)
alle Treffer mit komplettem Registerauszug inkl. Grafiken, soweit veröffentlicht
Auflistung aller Suchschritte
inkl. fünf Nizzaklassen

Anzeige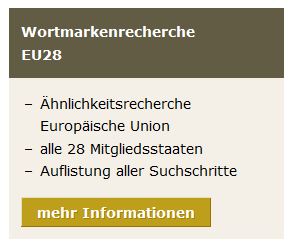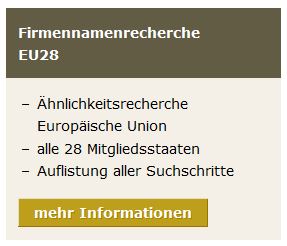 Did you enjoy this post? Why not leave a comment below and continue the conversation, or subscribe to my feed and get articles like this delivered automatically to your feed reader.