+++ Newsletter +++ für die Nutzer der Informationsdienste des DPMA
Ausgabe Januar 2013
Themen:
+++ Öffnungszeiten des DPMA München an Faschingsdienstag +++
+++ WIPO veröffentlicht Online-Zeitschrift zur Internationalen Markenregistrierung +++
+++ Fragen an die Auskunftsstelle: +++
— Was bedeutet bei einer Gebrauchsmusteranmeldung die Aussetzung?
+++ Tipps und Tricks für die Recherche in den elektronischen Diensten +++
— DPMAregister/DEPATISnet: Anzeige des Inhabers
+++ Neue Ausgabe der Erfinderaktivitäten auf www.dpma.de +++
+++ Achtung Piraten! Veranstaltung zur Durchsetzbarkeit gewerblicher Schutzrechte am 13. Februar 2013 bei der AGIT in Aachen +++
+++ PIZnet Veranstaltungshinweise +++
+++ Termine +++
+++ Impressum +++
Quelle: DPMA
Anzeige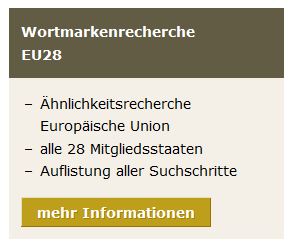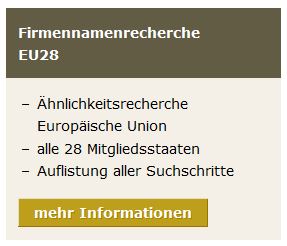 Did you enjoy this post? Why not leave a comment below and continue the conversation, or subscribe to my feed and get articles like this delivered automatically to your feed reader.