Das Deutsche Patent- und Markenamt hat die aktuelle Ausgabe des Newsletters für die Nutzer der Informationsdienste des DPMA veröffentlicht.
+++ Newsletter +++ für die Nutzer der Informationsdienste des DPMA

Ausgabe Mai 2012
+++ Anmeldezahlen bei gewerblichen Schutzrechten entwickeln sich uneinheitlich – Patentanmeldungen bleiben stabil – Geschmacksmuster gewinnen an Bedeutung +++
+++ DPMAdirekt Version 2.2 verfügbar +++
+++ Fragen an die Auskunftsstelle +++
—Ab wann werden beim DPMA Akten online zugänglich sein? Wie wird die Online-Akteneinsicht funktionieren? —
+++ Hinweis zur Gebührenzahlung per Einzugsermächtigung +++
—Deutsches Einzugsermächtigungs-Lastschriftverfahren / SEPA-Lastschrift (SDD) —
+++ Tipps und Tricks für die Recherche in den elektronischen Diensten +++
—DEPATISnet – Suche nach Postleitzahlen oder Orten —
—DPMAregister-Marke: Suchmöglichkeit nach Verfügungsbeschränkungen —
+++ PIZnet Veranstaltungshinweise +++
+++ Termine +++
Quelle: DPMA
Anzeige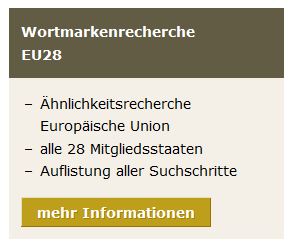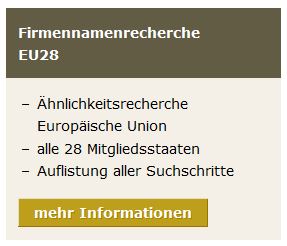 Did you enjoy this post? Why not leave a comment below and continue the conversation, or subscribe to my feed and get articles like this delivered automatically to your feed reader.