Für den Suchbegriff Blog lassen sich mit Schutzwirkung in Deutschland folgende Marken ermitteln:
law blog
Wortmarke
Nizzaklassen: 42, 41
Name: Vetter Udo 40476 Düsseldorf
German Trademarks
blog de
Wortmarke
Nizzaklassen: 35, 38, 42
Name of applicant: Wilken & Sommer GbR, 10999 Berlin Germany
EU Community Trademarks
blog
Wort-/Bildmarke
Nizzaklassen: 35, 41-42
Name of applicant: Portugalmail – Comunicações S A, 4100-395 Porto Portugal
EU Community Trademarks
LIFE BLOG
Wortmarke
Nizzaklassen: 09, 38, 41
Name of applicant: Nokia Corporation, 02150 Espoo Finland
EU Community Trademarks
Weitere Marken, die den Wortbestandteil blog enthalten, folgen zu einem späteren Zeitpunkt.
Quellen: DPMA, HABM
Anzeige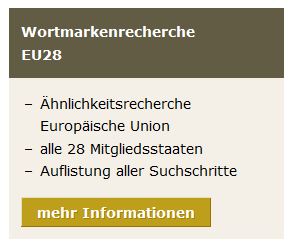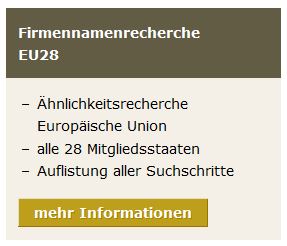 Did you enjoy this post? Why not leave a comment below and continue the conversation, or subscribe to my feed and get articles like this delivered automatically to your feed reader.